Meet Eline, founder of Plugify
This Tuesday – October 11th – Eline Leijten is one of the speakers during ATT's next edition. She will talk about her tech company Plugify, being an entrepreneur and the startup scene in Amsterdam.
Hi Eline, can you tell us about what you do?
I'm the founder of Plugify, the new online marketplace for booking live music performances.
Can you tell us about your background and how it lead you to where you are?
I have an educational background in economics and law. During my studies in Rotterdam, I sang in the semiprofessional student band Hermes House Band. After graduation I have worked as a strategy consultant for three years. Then I realized, based on my own experience in this industry, that booking live music was still a way too old-fashioned affair. Why wasn't there a platform where anyone can easily book live music? I missed this, both as a consumer and a musician, and decided to start it by myself. That became Plugify.
What are some of the industry related apps and websites that impress you the most?
Airbnb, Booking.com and Treatwell.
How do you harness tech? What role do you see tech playing in your business?
Tech is the key to Plugify. It enables us to cut out the middle man. Tech makes it possible for Plugify as a platform to exist, hence for unknown yet talented artists to be found by complete strangers. I see a big role for tech in the music industry (it already has a big role), however I don't think it will ever entirely take over personal contact between people booking live music and artists.
What are your thoughts on the future of women in tech? Which direction do you see it heading in?
I hope women who aspire a career in tech pursue their dream and go out there to make this happen. In my view that would require a behavioral shift towards women with children in tech, as most women of a certain age in the end wish to have babies one day. In the Netherlands, I've never seen a pregnant woman lead a large fundraising round for example. I think that's a shame.
What companies do you look to for inspiration?
Bloomon and Spotify.
What are your thoughts on the tech startup scene in Amsterdam?
I think Amsterdam has a vibrant tech startup scene. There are many ambitious tech startups and inspiring co-working spaces where one can meet one another.
What advice would you give to people aiming to integrate tech as a central component in their business?
Make sure you onboard all people involved from the very beginning.
What advice would you give other women trying to crack this industry?
Don't doubt yourself and read the book Traction.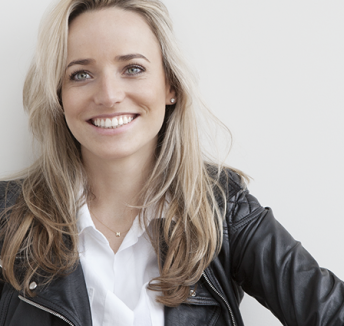 Read now

Meet Constance, founder of Camarilla
Read now

Should Work Have a Say in the Way You Live your Life?