Let your business take off with Spaces at an airport near you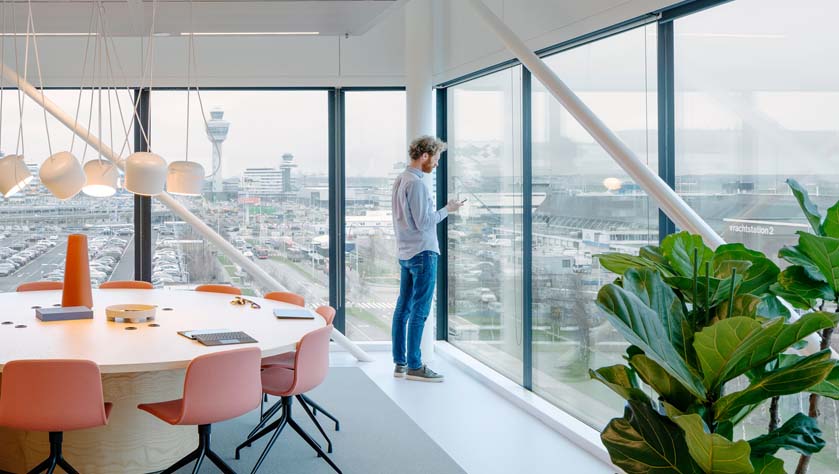 Face-to-face meetings will never go out of fashion. Despite the sophistication of modern video conferencing tech, there's still a need for international businesses to connect and work together in the flesh – even if it's for a short while.
Make more of your day
At the same time, a short hop over to your office can take its toll on international clients and partners – especially if they spend almost as much time sitting in rush-hour traffic, travelling to and from the airport. With a business based around an airport, all of this can be avoided. You could meet at Arrivals at midday, host a working lunch at the office and wave them off at Departures by late afternoon. Easy peasy.
Hop on, hop off
It's an ideal solution for meetings that require face time but don't need to last all day. You can boost efficiency by creating an office space that clients can drop in and out of. They can avoid costs that come with airport transfers and booking a hotel for the night. It can be important for your guest's wellbeing, and your relationship with them can only benefit. By cutting down their travel time and the stress that comes with it, you're showing that you respect their time. What's more, having flexible workspace in the surrounds of an airport creates a buzzy, international vibe that will inspire your team to aim high.
Our Airport Spaces
At Spaces, we know that nothing beats comfort, that's why we've made it our mission to make the experience of going to work as smooth as we possibly can. For international travellers, our airport locations do exactly what you need them to do. If your business has grand plans to expand overseas, or your international colleagues regularly fly down for face-to-face time, having that flexible workspace just moments from your local airport is a guaranteed win.
Spaces are found wherever there's a need for dynamic, inspiring office space, which is why you'll find them at four of Europe's major airport hubs.
Heathrow Airport, UK
Spaces Heathrow Airport, for example, provides bright, modern workspace for creatives and entrepreneurs just ten minutes from London's major airport. It's the venue of choice for some of the world's largest corporates, so tenants can mingle with the big players while grabbing their morning coffee. Being based at Stockley Park business park inside the cutting-edge Bower Building will soon be particularly handy, as two Crossrail stations are set to open close by, meaning tenants and international clients can easily zip into the City of London if necessary.
Schiphol Airport, The Netherlands
Spaces Schiphol Airport is another hotbed for international business meetings. In just a short 10-minute walk from the Dutch capital's ultra-connected airport, this location was developed in partnership with Microsoft Netherlands, turning it into a thriving AI hub, with designer furniture, an artisan coffee bar and an environment absolutely buzzing with innovation.
Brussels Airport, Belgium
Over in Belgium, Spaces Brussels Airport is a vibrant coworking space that will inspire energy after a flight. Based in the Diegem area – within easy reach of the airport, and home to the HQs of corporate heavyweights – the location is spread across four well-designed floors with nooks and private meeting rooms to suit any set-up. Working from Brussels Airport opens up a world of possibilities in the capital city of Europe.
Zürich Airport, Switzerland
Spaces is also about to enter one of Europe's most exciting new tech hubs – Zurich's The Circle. In September 2020, Spaces The Circle will launch and become Switzerland's largest coworking office, found right around the corner from the nation's biggest airport. Not only will the space be housed within a striking new landmark, designed by Zaha Hadid Architects, it will provide our members with a hotbed of innovation.
These airport locations are not just to benefit international visitors. If you find yourself increasingly travelling overseas to grow your business, wouldn't it be amazing if you could easily stop in at the office when you land before heading home, rather than schlepping into town first? Having an airport-based workspace could save you time, and offer a more strategic way to achieve goals of international expansion. With locations near four major European airport hubs, help your business reach for the sky with Spaces.
A little more time on your hand, or keeping things local? Find your nearest Spaces right here.
Read now

New technologies are making it easier than ever to be sustainable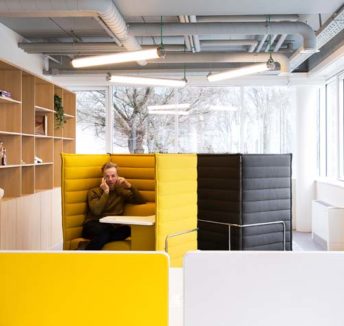 Read now

From Antwerp to Brussels: Spaces' expansion in Belgium