Foodie Heaven at the Falchi
Long Island City is well-known for it's creative scene of media, publishing and tech startups. Its plethora of art galleries, high rises and sweeping views over Manhattan draw in creatives and executives alike. This up-and-coming neighbourhood has witnessed restaurants pop-up throughout the district, with a dedicated artisanal food court recently set up in Long Island City's very own Falchi Building.
The Food Box is home to several of Queens' best street vendors, purveyors of everything from tapas to Thai, American classics to Caribbean. For a taste of some of the best street food and cheap eats in the borough, The Food Box's collection of cuisines from around the world establishes the former Gimbels department store warehouse as something of a Chelsea Market revival, and a social hub of activity for the area. This new establishment really is a culinary treat for New York foodies.
The NYC staple, Doughnut Plant, has set up shop under Falchi's roof, meaning hungry entrepreneurs and business nomads no longer have to travel to Chinatown to wait in line for  their famous dolce de leche treats. The Juice Press Factory now also calls Falchi home, so you can get your fresh morning fix without having to leave the building. Russian baked goods by café Stolle, Peruvian specialities by Jessy and Caribbean dishes by ReCaFo all comprise the line-up of street fare at this new Long Island City food court.
Check out the gallery below to see some of what The Food Box has to offer. 
Read now

First of August Sample Sale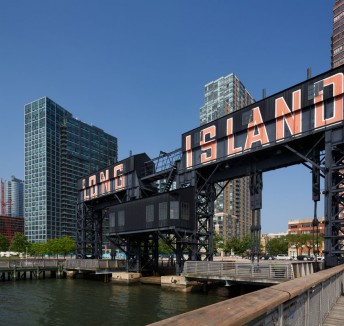 Read now

Creativity's New Home