The Anti-Gallery Disrupting Amsterdam's Art Scene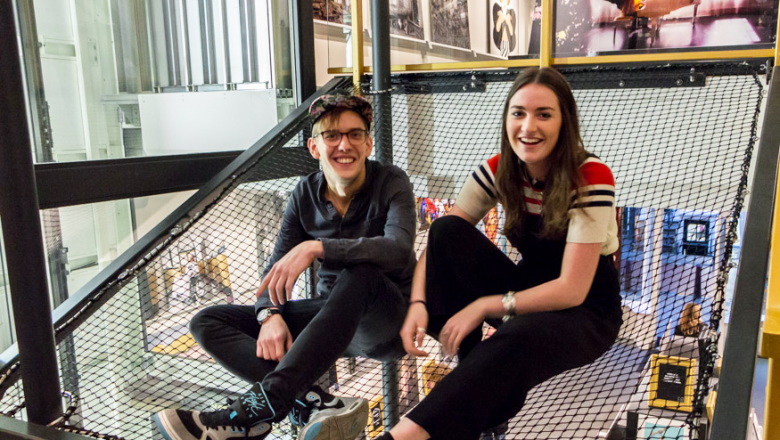 Art to Disrupt, not bankrupt. This is the mission statement of Public House of Art, the anti-gallery situated on one of Amsterdam's most traditional streets laced with private art galleries and antiques shops. Last month, these provocateurs of pretension launched their shop by turning it into a brothel, bathing the exterior in red light and hiring scantily clad prostitutes to pose in the windows, a metaphor demonstrating what they really stand for; transparency and disruptiveness with an essential Amsterdam identity.
Exposing the naked truth of art as commodity through their tongue-in-cheek stunts, these guys are no-holds-barred when it comes to showcasing their artists' works. We speak to Spaces members Simon and Charlotte of Public House of Art about disrupting Amsterdam's artworld.
Spaces: Hi Simon, hi Charlotte, can you tell me about how the Public House of Art all started?
Simon: PHoA was founded by Amsterdam based Director, Sid Sand. His initial idea was born out of his frustration from private galleries and art institutions, the way they condescend and detach the viewer. The elitism of these establishments alienate many art fans, creating an inaccessibility and distance from an important aspect of life; the ability to enjoy and appreciate art.
Charlotte: Our name says it all. It's important for us to be open and honest about what we do and we want people to feel welcomed, rather than leave you feeling cold and uninspired. Public House of Art is a blatant announcement of our mission, cutting through the pretension of the private gallery, one that we believe really sets us apart from our contemporaries.
How do you collaborate with artists and curate their works for your exhibition?
Charlotte: We have an open call for up and coming artists, so we invite people to connect with us to show their works and tell us about what they do. Our curators also actively approach artists that we see fitting for our space and exhibition themes. We deal with a vast array of people from unknown, up-and-coming, to already established artists. It's a great mix and provides each artist with an equal platform to exhibit their work.
Simon: We've finished looking for photographers for this theme and we're now focusing more on painters, sculptors and digital artists to get a range of different medias. We don't just focus on one artistic medium. Rather, we wish to showcase the whole spectrum of what's possible in creation; from original artworks, to digital collages, photography and video installations.
What's the unique element that stands Public House of Art aside from other private gallery spaces?
Simon:  Our idea is simple: We want to be totally transparent about our pricing. We display all of our pricing options on the price tags.  We have four tiers of pricing; house, villa, mansion, castle; you can choose different print options, mount, and frame. This is all clearly communicated to the viewer on the price tag.
Charlotte:  Our brand manifesto sums up what we stand for and how we work. So we differentiate ourselves in our gallery not just through our appearance, but also with our content. We work with biannual themes, so we change our artists each six months.
What's the theme of your current exhibition "The Awesome", all about?
Simon: Maurizio Buquicchio was the guest curator for The Awesome. He started the theme and the concept of The Awesome through contemplating the value of the visual today in our hyper-digitalised, hyperbolised world. He wanted to ask the question, "can an image still confound us, amaze us, leave us in awe?". And so he began to collate highly impacting works that appeal to the immediate senses.
We're going to add more painters and sculptors to this current exhibition. So it's not a static exhibition, rather it changes over time. It's an evolving process that changes the context of the space and exhibition becoming something more exciting than just a static display of works. It's just as fluid as the art itself.
Charlotte: We work with guest curators, so our next theme will be chosen and curated by a different artist. We want to get fresh perspectives on art. It's an interesting opportunity for uprising artists because we're not looking for exclusive representation, which a lot of galleries do.
I'm interested to hear about the artists' relationship with you as the art dealer. What, if anything, differentiates it from the traditional, often resented artist-dealer relationship? 
Simon: We've tried to establish an ethical working relationship with our artists. We don't regularly work on commission. For the original artworks it's a bit different, but for photography for example, we pay them up front. So we pay for the exclusive rights for that series of works and if they've exposed with us and another gallery approaches them wanting to show them, they're absolutely free to do that. We don't intend to hold our artists hostage.
Charlotte: It's also a good way for the artist to get some initial exposure and for us to nurture the artist by giving them a platform to establish themselves. Most of the artists are international, too, so it's great for them to be shown abroad, especially in the European cultural capital of Amsterdam.
So tell me about your adoption of digital media in-store.
Simon: We want to bridge the gap between online and offline. We're trying to translate the offline experience to online and the other way around. We wanted to give the artists a voice so they could really explain their own original intentions behind their art by stripping back the layers of interpretation and cutting through the intermediaries. This is so often distorted by curators and dealers, and it's hard for artists to give up control over how their works will be perceived. This allows them to present their intentions directly to the viewer.
Charlotte: Our installed screens allow you to select the artist and watch short video clips of them  introducing themselves, talking about their ideas on their specific works and artistic medium. This is shown both in-house and on our website. We're of course also present and on the shop floor communicating these pieces to our guests and clients.
The subjective nature of art means it's almost impossible to judge a piece purely on quality and aesthetic merit without taking into consideration industry reputation and commercial value. In that case, what are the criteria that you measure the artists and their works with?
Charlotte: Really, we're not so much about reputation; obviously it's nice to show established artists, but that's not what we're focused on. For us it's about quality, technique, intrigue and imagination. The purpose of the Public House of Art is to recognise unrecognised artists based upon their artistic merit rather than how renown they are. About ninety per-cent of the work that we look through is just unusable for us. A lot of it is so abstract and really far removed from what we are and what we do, that we just can't show it. If we see someone that really catches our attention, however, we'll begin to build a rapport with them. Sometimes it works out, sometimes it doesn't. It's a difficult process but the results are rewarding. It's a real array of talent and artistic form.
At your launch, why did you decide to strip back and make a show of the shop front?
Simon: We thought about it for quite a while. We definitely wanted to differentiate ourselves from the other typical, more traditional galleries on the very street that we are situated on. Nieuwe Speigelstraat is a really old and well known street in Amsterdam with lots of expensive boutiques, privates galleries and antiques stores. We also wanted to announce that we are Amsterdam based and disruptive and not sticking to the given traditions and established expectations.
Our red light self-exposure during our launch was a metaphorical representation of the transparency of our concept and work ethic, making it obvious where the costs are coming from and letting you know that it's all up to the buyers.
Great, thanks both. 
You can visit Public House of Art daily to explore their current exhibition and chat to the guys about their disruptive concept. Are you an artist interested in exhibiting with them? Email here to submit your ideas and work.
In the words of PHoA; Art is for the many, not the few. Welcome all.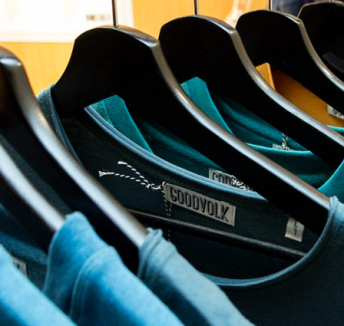 Read now

Celebrating Amsterdam's Artisans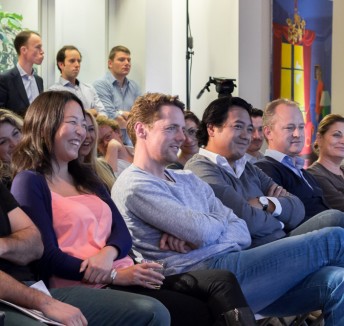 Read now

Integrating Tech with the Food Industry