WHERE COLLEAGUES BECOME FRIENDS.
At Spaces we believe it's important to appreciate your workspace. Co working space has a whole number of benefits in the current working world. When you utilise co working space is  more relaxed, you can challenge your own boundaries and also learn from someone else.  Check out our membership offers today.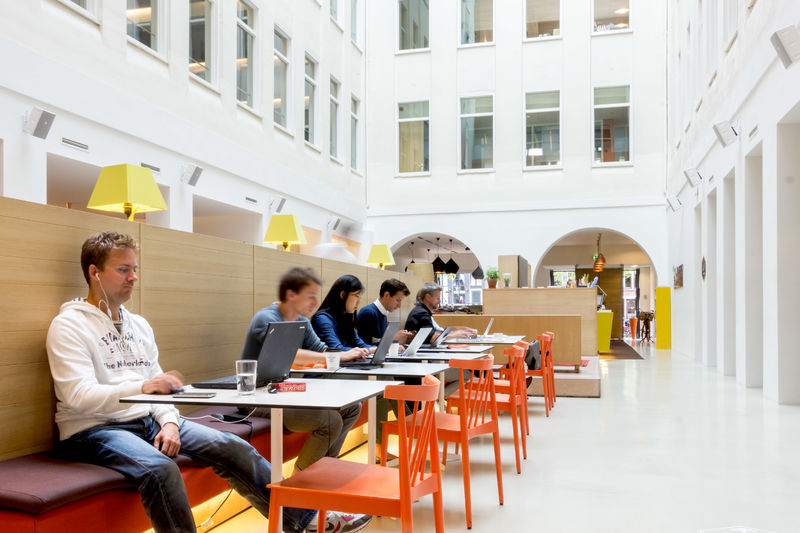 Coworking: over your morning coffee or a healthy lunch, finding a spot in our Business Club can be the start of something special. Hone in on someone else's skills and share your perspective to help one another. Sharing is caring and means you can learn to discover if co working space has the answer to your unresolved question about going to work.
Big ideas can start from a something small.
Sometimes it's good to be alone so you can focus, but other times it's good to have some company in order to get those creative juices flowing. That's why having a membership is perfect for refining the art of co working. Believe us when we say it's an art, because it's about a balance of managing your time with yourself and also others.
Join the Journey of Co working space.
Our journey into a collaborative world begun with co working space in Amsterdam. We've followed the journey of many huge corporate companies such as Uber and Amazon utilising our office space and benefiting from the perks that that it brings. Whether you need a contact to push your business into the world of VR or maybe a little assistance on your SEO; co working can be your new best friend.
What's the co working space fuss all about?
Once you have a membership with us you can utilise co working space all over the world. We have 3 working spaces in Amsterdam,  one in The Hague and also in Rotterdam. Our mission to change the way people think about work is well underway. We're aiming to make your working day feel less like a chore, allowing you to enjoy it more. The benefits of co working are endless. You can be in control of your day, and mix things up throughout the week. Take a look at our prices to see which workspace suits you best. Spaces supports companies of all shapes and sizes. The corporate giants and the start-ups. We've even got meeting rooms for everyone to utilise.