Beach better have my business
Wouldn't it be nice if you could hear the calming sound of waves crashing instead of your mobile phone ringing? A leisurely walk absorbing the views along the pier rather than a busy battle into the office on Monday morning? The cackle of people having fun whilst they lay out their beach towel. Instead you're at work. It would  be more than ideal if we had more opportunities like this; to step away from work and explore just like you do when you're on holiday. Is that too much to ask? Beach, please. That's not as hard as you think when you're a Spaces member because we happen to have a multitude of locations conveniently located right near the beach or at least with sea views.
spaces Port Olimpic, Barcelona
The Spanish have rather an admirable way of work. Siestas are still a thing, and Sangrias at lunch won't necessarily get you a disciplinary. For a city so vibrant and one that has almost every aspect of landscape you could wish to set your eyes on, it's equally important to take step back from the hustle and bustle. At Spaces Port Olympic you can get all your emails boxed off, open your eyes to a new way of work, and even better? Enjoy a daydream whilst starring at the sea from your office window. Sounds tempting, huh?
Spaces Santa Monica, LA
For those of you don't want to be taunted directly by the view of the beach from your office window, we understand, it can be distracting. Maybe Spaces Santa Monica is more up your street. Located only a 20 minute walk away from LA's Santa Monica state beach you've got the added bonus of feeling like you're in the city but close enough to a beach. You can put on your thinking caps in a not-so-stereotypical team building exercise whilst gathered on the beach. A shore way of keeping your employees happy and their ideas even happier.
Spaces Mission & 3rd., San francisco
Nestled in the heart of San Fransisco's Soma district, Spaces Mission & 3rd has more to boast than its plethora of start-ups, bars, galleries and museums. If you're a culture vulture looking to switch up your daily inspiration, you can take your brainstorm away from the office and take in the sights of the sea with a leisurely walk along the pier.
Life's a beach and we understand the sea breeze isn't for everyone. If it's not, take a look at all the other locations we have on offer here to find the ideal location for you.
Read now

Summer at Spaces - Drinks, DJs and dancing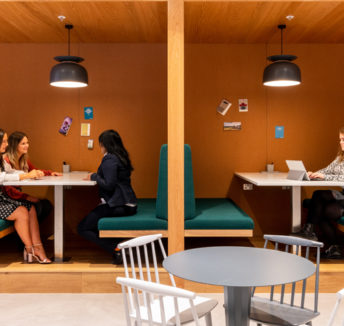 Read now

A strong employer brand will create a great place to work