Meet Business Professional Jim Kleijnen
Spotlight focuses on the creative individuals that make Spaces what it is. We talk to Spaces memberJim Kleijnen of HireVue about everything from gadgets, inspirational music, and his concept of 'real work'.
Hi Jim, can you tell us a bit about your company? 
HireVue makes business personal through social, mobile and video enriched interactions in the workplace. Our Talent Interaction Platform lets job candidates tell their stories and demonstrate their talents, enabling high-tech collaboration and insights. This is all done through the speed, quality and consistency of digital. HireVue was recognised by Forbes as a top 10 company on America's "Most Promising Companies" list in 2014, as a top 50 company in Deloitte's Annual Fast 500, and as a top 500 fastest growing private company by Inc. Magazine, in 2013. Now, it's time to roll out in EMEA and APAC as well.
So what's your role?
I'm the Regional Manger for Benelux and Germany. I'm trying to rollout HireVue's proposition in this part of Europe. I report to my VP who's based in London together with four of my colleagues in marketing, customer success and sales. My company's HQ is US based, in Salt Lake City, Utah.
What apps, tools and software can't you live without?
As I'm working remotely the tools available to me are very important. Google calendar and Tasks run my life, and I keep track of my email campaigns via Toutapp. My prospect and client base registration as well as my forecasting takes place in Salesforce.com as well. Remote presentations are hosted via Webex, and via Postwire I share collateral with my prospects. These tools are essential for my world to keep turning! Recently we added Slack to the stack which makes working on projects together with colleagues easier.
What's your best timesaving shortcut while working?
Without joking, Merel's coffee! That stuff is brilliant, it keeps me going. On the other hand, the casual chat breaks up my day and takes my mind of things which leaves space for a bit of creativity!
What is real work for you?
"Real work" for me doesn't exist anymore. As soon as my job becomes "real work", I quit. The lines between private life and work life have blurred, being online all the time, working with people from different continents, it all impacts the way you fill in your day.  Besides, I like my work tremendously, and I happen to get paid for it.
What is your favourite gadget?
As I'm online all the time, I like to spend my free time offline. On Tuesday's I join an outfit of 10 guys, suited up in lycra, to go road cycling through Westland. This really takes my mind off things. Whenever conditions allow it I spend a few hours on the water kitesurfing, or at least I try to. So literally, my favourite gadgets are not connected to the internet.
What everyday thing are you better at than anyone else?
I wouldn't say I'm better than anyone else at anything to be frank. When it comes to my career, my CV would tell you that I'm a former Hotel School student and have worked at high level properties both in the Netherlands and the US. A degree executed in something not very relevant to my current role. On top of that I have an unhealthy obsession for adrenalin sports and cooking. How helpful is that, I wonder?
Those who know me would probably say I'm a creative trapped in a salesman's body. A fiercely loyal, highly competitive individual with a questionable attention to detail and the attention span of an infant on a sugar rush. I recently found out I am someone who tends to excel in a startup culture and would be totally depressed in any firm that employs more than 1000 people. in short, I am who I am. Potentially brilliant in the right environment, and a flat out liability in the wrong one.
What music do you like to listen to while working?
Usually whatever is being played in the Spaces' business clubs. If I have my headphones on I use Google Play to discover a bit of new music. Recent finds were 'The Way on Drugs' and 'Matthew and The Atlas', love it.
What book is on your nightstand at the moment?
As I'm cranking up my German again, I'm reading a German book, 'Der Todt Greift Nicht Daneben'. It was a present from one of my Austrian friends. It pushes me to look up words I don't know and think about what I'm reading.
What's the best advice you ever received?
One of my Directors at the Hilton called me into his office one time and told me, "Jim, the most unreasonable people change the world!". After giving this a bit of thought and doing some research I discovered he was quoting George Bernard Shaw: "The reasonable man adapts himself to the world, the unreasonable man persists in trying to adapt the world to himself. Therefore all progress depends on the unreasonable man." Consequently, I like to think I don't judge too quickly and force myself to be open minded about concepts, innovation and the dreams of others.
Great, thanks Jim. 
You can find Jim typing away in the business club of Spaces Rode Olifant. 
Read now

Frame x Spaces: Creating an Inspiring Working Environment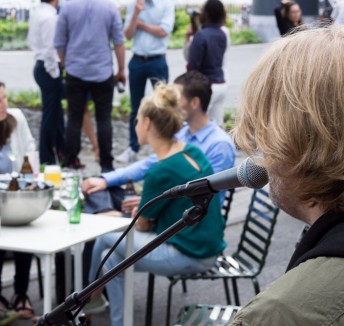 Read now

Summer Socials