Rotterdam Talks Tech Recap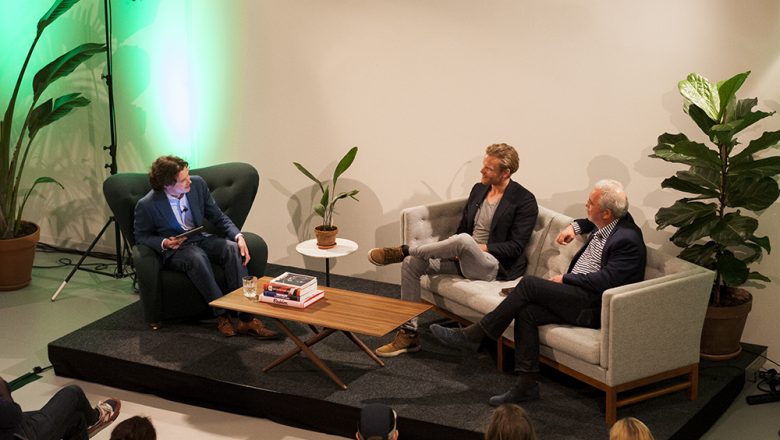 On March 23rd, Spaces Hofplein held its very first Rotterdam Talks Tech event ever. And we have a reason to celebrate, because the place was packed! For those who've never been to Spaces Hofplein, their food is amazing. Which is exactly the reason why this is the perfect place to start off with a food themed Rotterdam Talks Tech. Sprout's editor in chief, Remy Gieling, hosted this night full of innovations, ambition, networking and lots of humour. Here are all the highlights of the evening for those unfortunate enough to have missed it.
I can't believe it's not chicken!
Niko Koffeman's story of the coming about of the Vegetarian Butcher is a very interesting one. From asking women to cheat on their husbands by sneaking in some vegetarian meat every now and then, and all the reasons why we should stop eating meat, to creating perfect synthetic chicken using Wageningen University's machine, we learned the process of their expansion. He and founder Jaap Korteweg were told that becoming a vegetarian butcher would be career suicide, but so far they're proving quite the opposite. When true carnivores and meat-a-holics can't taste, feel, or see the difference, you know you're on to something great. Fun Fact: Koffeman hasn't eaten a single fibre of meat in his life, and Kortweg is a true meat lover, making their standards extremely high. They use all natural flavours, ingredients, and only natural processes. They just take meat out of the equation. The biggest challenge lies in scaling up their business, but that won't be a problem. Why? Because their next plan for global domination made the crowd go wild. A kitchen aid used for printing meat. Beam me up Scotty, the future just arrived.
Deliver us from junk food
Talking about the future, how about food delivered by pink drones? According to Vincent Hosman of Foodora it's not just an ambitious plan, it's happening when the tech and regulations allow it. Before that time comes, Foodora sticks to delivering restaurant-quality food by bike. People want things immediately, and they want to be more aware of what they're eating. Foodora adds the awareness to the on-demand and combines it into a highly visible, pink delivery-powerhouse. Utilizing systems for faster delivery, and dropping manual transactions as much as possible, they've managed to expand their business. Dealing with misunderstandings of why you would deliver restaurant foods, they've silenced their critics with their success. Using influencers, reviews, and blogs, they created restaurant databases, and they're only allowing restaurants that fit their profile to the service. In this way they guarantee healthy, additive, non-junk food. The Future? Big data. Analysing customers' behaviour can help restaurant owners prevent waste of stock, and prevent people from accidentally ordering food they're allergic for. Awesome.
Innovation capital
After a short cocktail break, the talks continued with three new speakers. Gijsbregt Brouwer is the founder of the Belly of Rotterdam. He provided us with some insights on why Rotterdam is the food innovation capital of the Benelux. It's buzzing, spacious, and isn't affected by the big money. The food industry is definitely a cycle, and Rotterdam is taking the lead. We went from craftsmanship, to big industry, and now we're slowly embracing true craftsmanship again. We de-innovated and became conservative. The Belly is trying to re-innovate what it means to be a chef, making them buy local, organic and responsible.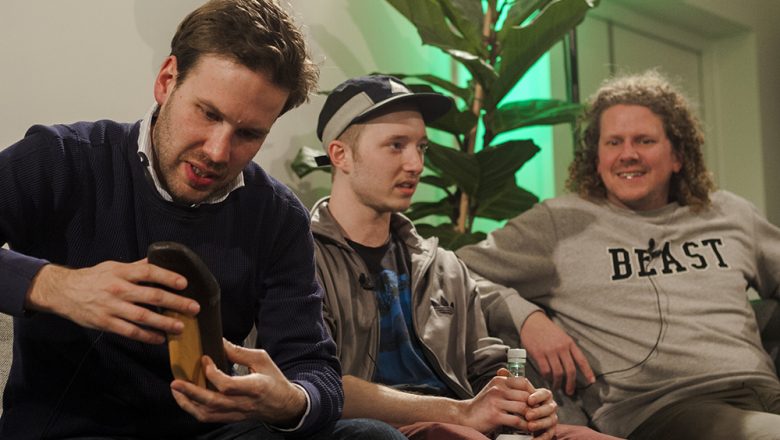 Bart-Jan Veldhuizen, Hugo de Boon and Gijsbregt Brouwer
Rotterdam Revolution
Bart-Jan Veldhuizen of Kitchen Republic deals with waste on a daily basis. Basically, just like Spaces has offices, they have kitchens. And they house 25 entrepreneurs from all over the world in those kitchens, so it's very safe to say they deal with a lot of waste. Being as sensible as possible is the best way to go. Which is where the last guest of the evening comes in. Fruitleather's Hugo de Boon didn't want to include exactly what they were smoking when they decided to turn spoilt fruit into leather, but it sure caught everyone's attention. Housed in an abandoned swimming pool, the company reuses just about anything. And the amount of stuff that gets thrown out is extreme. 45% of all our fruit gets thrown out, which in return, serves Fruitleather. Their product is not ready yet, but when it does, expect a Rotterdam Revolution to take place.
Once the chats were done, the networking could begin. And by looking at the amount of drinks that were left at the end of the evening (none…), it was a great success. Rotterdam fully embraced Rotterdam Talks Tech, so here's to the next one!
Join us for the next edition of Rotterdam Talks Tech on September 14 at Spaces Hofplein, this edition: The Retail Industry. We've invited industry professionals who are sure to inspire, so make sure to get your tickets on time.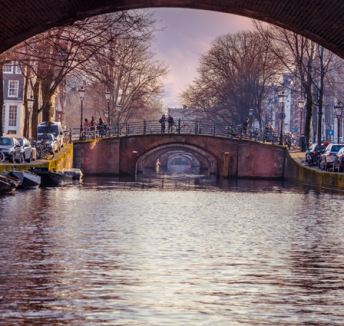 Read now

Make Amsterdam Mobile Again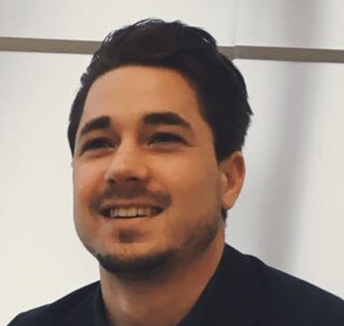 Read now

Parcompare, mobility solutions for the future