Meet Shoe Designer Bianca Blom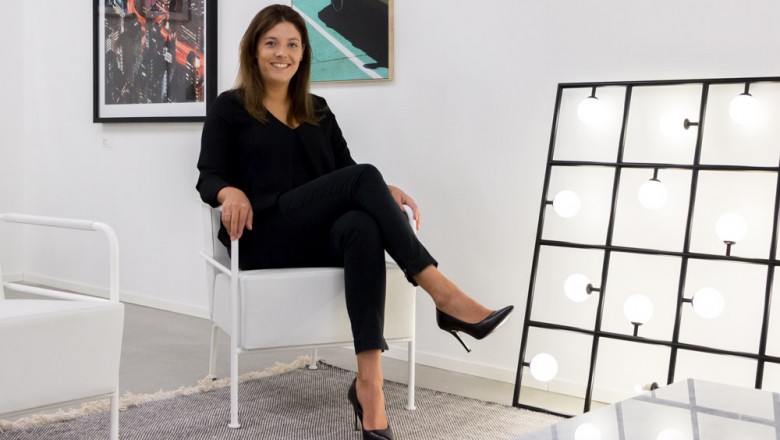 Meet Bianca Blom, the woman who tailored her entrepreneurial spirit to her passion. After years of working in various industries, Bianca made a committed decision to walk a path of her own. LINJA Shoes combines the opposing worlds of style and practicality. We talk to Bianca about the idea behind her business and what motivated her to startup.
Spaces: Hi Bianca, can you tell us about what lead you to create LINJA?
Bianca: I grew up in an entrepreneurial family so I always knew that one day I was going to have my own business. I studied business economics which was really broad but provided me with a strong foundation, giving me the knowledge to begin my working life in business. I began in online marketing, then moved on to finance and sales in different startups and small companies. I have always had a thing for heels, and it became my dream to make that my business.
So you really combined your passion with your business knowledge and made it happen?
Absolutely. I really wanted to create my own line, but there's already so much in the market that it got me thinking about how my shoes could be different, how they could stand out. I looked at what was missing in the current market and from my point of view was an elegant high heel with a lot more comfort. I decided to take a course in shoe design and learn the theory and practice behind creating my own heel. I loved creating a tangible product that started from imagination. This process made me realise that if this is the way high heels are made, no wonder my feet are killing me by the end of the evening! I knew that through creative, considered design, this was something that could be changed.
How did you go about solving the "unsolvable issue"?
I started talking with a friend of mine who's an orthopedic shoe maker and together we created our own design for a sole that would provide invisible comfort. After the prototype was made, I put them to the test. The difference was striking, I felt it instantly. I knew this was something I wanted to bring to other women, the experience of elegance and empowerment without suffering as a result.
What was the next step? 
I brought the idea to Product Designer Seroj de Graaf and he was really enthusiastic about the product, so we teamed up to create LINJA. I brought those two seemingly opposite worlds together – style and practicality – to provide a solution to the problem of so many women. Our next step was to head to Italy to source some of the best shoe makers who were open to this new and innovative way of making high heels. Quite a lot of times we heard people say "that's not possible" but our response was always "why not? Let's make it possible".  It was quite a challenge adopting new techniques. The orthopedic element of the shoe is this hidden secret inside, and that's the most difficult part to make. It's great to see that the Italian shoemakers are proud of the result as well. By combining these elements, we created the end product that I was proudly able to launch in June at Spaces Vijzelstraat.
What about design appeals to you?
If I put on the right pair of shoes it elevates me, and not only in the literal way! But also it makes me feel more confident, more feminine; it can be an empowering experience. You can really accessorise with heels and transform your entire look. A great pair of heels are only great if they make you feel like you can conquer the world. That was the feeling that I was chasing when I began creating LINJA. I wanted a shoe that you can wear for all occasions. The classic black pump design means you can wear them to a business meeting, a lunch date or a formal evening event, they're very versatile. A timeless classic. 
You say that you come from an entrepreneurial family, did you take it for granted that you would one day startup your own business?
The funny thing is that one day, all of the pieces of the puzzle started falling into place when I really took the step to start my own company. Previously I did so many different things that I had no clear career path, people were saying that there was no logic to it! Which of course I knew, but I was just following my heart, figuring things out along the way, then when I started my own company I realised everything I had done before was invaluable to me. I have such a great network of people and broad knowledge of business that all this "nonsensical" experience now makes perfect sense.
What got you out of the home into creative co-working space? 
It's challenging working on something from home, you need to find your own rhythm and be strict on yourself because of easy distractions.Then again, I work from home on weekends because it never stops. That's the thing about having your own company, you have all the freedom in the world and at the same time you're never free.  The mix of people here is great, I like the feeling of having colleagues even though we work on different projects. We all share this enthusiasm and hard working ethos for creating something of your own. This shared passion connects you to each other. Its nice to be part of a community of interesting people doing exciting things.
What's next for LINJA Shoes?
We want to expand internationally, taking our product to the major locations where people will love Linja; Antwerp, Brussels, London. We started in the Netherlands but we are a company with international ambitions. Dutch consumers are critical but in a good way, so the Netherlands is a great place to startup; if it works here you know it's going to be a success. One of the things I love about Spaces is that you can work from all of their locations worldwide.  Whenever Spaces announces a new location I joke with my business partner, "wow, Spaces are really thinking ahead with us!". Launching my product was such a proud moment for me. Now the challenge is to get more women to experience LINJA for themselves, I want to spread the word and see how they think it's different.
Any last thoughts?
I'm hosting a private shoe fitting at each of the Spaces locations in The Netherlands this week. I would love to invite the women of Spaces and their friends to come and experience LINJA. They will be able to try on the shoes, talk to me about the design and order a pair of LINJA for themselves with an exclusive discount, becoming a member of the LINJA 500. 
Great, thanks Bianca.
You can check out the dates and times of Bianca's exclusive shoe fitting here. For a taste of the LINJA experience watch the film here.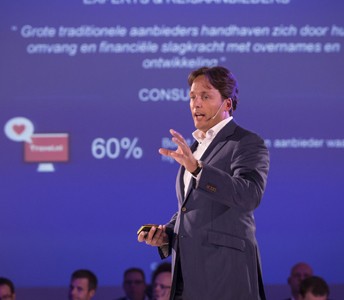 Read now

Meet Consumer Expert Michel la Pierre
Read now

PechaKucha Rooftop Edition