Make every minute of your meeting count.
Planning a team confab, a mind-mapping session with a couple of colleagues or pitching to new clients? Give these strategies a try, and you just may find yourself bound for sure-fire success.
The office is a central hub for employer and employee to come together and get things done. Sometimes, however, a change of scenery can work wonders: think increased productivity, new opportunities for collaboration and interaction and improved morale, for starters. At Spaces, the Business Club is a great way to introduce a shift in dynamics – whether you want a quiet spot to finalise that all-important report with a colleague, a large table to coordinate your project with the team, or if you're simply looking for a cosy coffee corner to regroup with clients at the end of the week.
If it's privacy you're after, our business club probably just won't do. Spaces' meeting rooms offer a professional-yet-relaxed working environment. Available in a variety of sizes, they're well-equipped and fully serviced, with a dedicated support team on hand to assist you and your guests. Once you've booked your room, it's time to get going. But, before you do, don't miss out on these hacks to ensure your meeting goes with a swing.
make your Meeting count:
Start as you mean to go on
Who wants to begin a meeting feeling stressed? Not you. Arrive a little early to take a few deep breaths and gather your thoughts. Think how you'd like to configure the room: a smart seating plan sets the tone. Round table is on point for open discussion, a U-shaped setting works for training sessions and theatre-style is ideal for presentations.
Keep everyone up to speed
Emailing attendees an agenda beforehand is crucial if you want to keep your meeting on track and avoid distractions. When you're sending it out, make sure everyone is clear on how to get to the location. Tell any drivers, for example, that there's parking within walking distance. If people are prepped from the get-go, you'll be kicking off proceedings on a positive note.
First impressions count
Body language can speak volumes. Whether you're welcoming clients or colleagues to the meeting, be open and confident. Stand tall, make eye contact, speak clearly and greet people personally, remembering to introduce everyone in the room to help put them at ease. And remember: a smile costs nothing but gives a lot.
Stay refreshed
Start your meeting with freshly made lattes or cappuccinos from one of the on-site baristas or order large pots of coffee (with or without caffeine) and tea for your room. And don't forget the water. One of H2O's many benefits is an increase of brain energy: it helps you think, focus and stay alert. And who doesn't want that?
Let's talk tech
Meetings can be more dynamic with the use of technology – so utilise the facilities on offer. An attractive-looking presentation on a big screen will keep everyone on board. And with super-fast, secure WiFi, you can easily share it with your guests – even the virtual ones. Talking of tech, make sure personal laptops and phones are out of arm's reach to avoid distraction.
Food for thought
A plate of sorry-looking biscuits no longer cuts it in a meeting. Take advantage of the healthy catering on offer and lay on a nutritious spread instead. Try and avoid tucking in during the meeting – instead declare a specific break-time, preferably outside the meeting room, to recharge batteries. Plus, eating well will keep everyone awake and alert. Win-win.
See the light
Our rooms are light, bright and airy – essential for a successful meeting. According to the World Green Building Council, exposure to natural light increases productivity by 18%. If you're planning a long session, do leave the room for breaks (it's worth noting that our attention span starts to wane after 20 minutes). Nothing beats a mental block better than a short blast of fresh air.
Strike the right note
Your meeting may have gone with a bang, but it will have been a worthless exercise if the outcomes aren't recorded. Have a pen and paper to hand (not your laptop with its oh-so-tempting emails to open) to take notes. Share the action points with all your attendees to keep momentum going, so everyone knows what's expected.
Follow these tips and, whether clients or colleagues, people will leave the room feeling engaged, inspired and motivated to tackle what lies ahead. Now that's what we call an effective meeting.
Looking for the ideal space to hold your next meeting? Spaces has rooms to fit any occasion. Find your ideal space right here.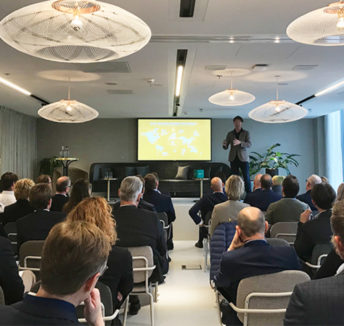 Read now

A recap of the Global FM Summit; scaling up and moving forward.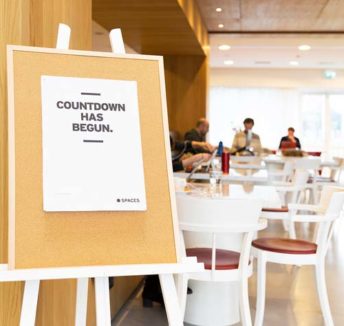 Read now

First pair of Spaces to open in Utrecht.