Integrating Tech with the Food Industry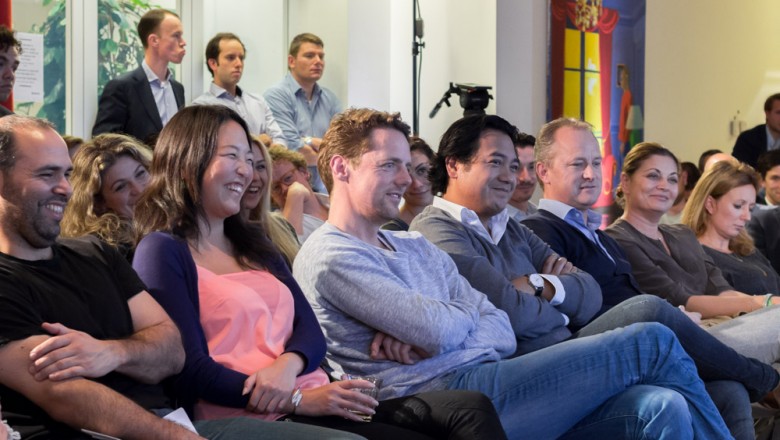 Amsterdam Talks Tech returned with its sixth edition on Thursday November 19th at the business club of Spaces Herengracht, all about food. Focusing the integration of Tech with the Food Industry, our guest speakers discussed their business ideas, their inspirations and showed clips about their food passions. The four food pioneers talked about what drives them and inspires business innovation.
Local entrepreneur Marleen Jansen of Marleenkookt delivers home-cooked food to your doorstep; Jordy van Meer of Koken met Aanbiedingen created an app that combines supermarket offers with great recipes; Food Inspiration's trendwatcher Frank Lindner; and Philip Padberg of Deliveroo who makes it possible to deliver food from your favourite restaurants to your home. The evening was hosted by was Remy Gieling, editor in chief at Sprout Magazine.
What is the connection between tech and food according to our panel members? Marleen explains: "Our service is not technology-driven, but we do use it. On their smartphones deliverers see route info and small details about customers, for instance a doorbell that doesn't ring, or an old lady who isn't able to come to the door downstairs. I believe first and foremost you should focus on your customers needs and not integrate tech for the sake of tech." Jordy mentions Koken met aanbiedingen uses branded content in their app. An example: a pasta recipe with a total of seven ingredients of which four are offers, with the pasta being from Gran'Italia. The pasta would be the branded content, in this case.
But what if this branded content is more expensive than similar products of other brands? Jordy explains: "We are very transparent; in the recipe we mention what is branded content. This is not the biggest challenge Jordy and his team face, though. All recipes have to be correct by the letter."
"We don't hear from happy customers, but when something is wrong, we easily receive 15 e-mails within 10 minutes." Marleen adds. "In the beginning I used to cook with a lot of cilantro. But I learned the hard way that they are cilantro lovers, and haters." Transparency and openness continue to be important and the power of the consumer keeps getting bigger. A good example of the consumer's demand for transparency is the video of the band Sons Of Maxwell. They made a song about United Airlines  when their guitar broke during a flight. After the release of the video, the airline panicked.
Philip loves this trend: "Big companies are afraid of consumers. But this development actually is a good thing. It gets companies to be very honest."
This transparency translates itself into products. According to Frank, two relevant trends are going on in food right now. "The first is reinventing tradition, such as coffee makers roasting their own beans, or local beer breweries brewing their own beers. The second involves awareness of what food does to our body, for example: which foods provide you with energy?"
This is happening now and not 20 years earlier, because of the current problems we have in food. One of them is 'globesity', which means people all over the world have gotten fatter. Frank: "After World War II, we simply needed food. As long as it was there, it was okay." Nowadays there is a growing group of people for whom mass food production by profit-based big companies doesn't work anymore. Deliveroo for example, handpicks qualitatively good restaurants.
Are there restaurants they won't accept? Philip: "Yes. We have minimum quality standards and we have a lot of debate about which restaurants to pick. We even coach some restaurants to review their daily processes in order to get them accepted." Marleen: "Most of our customers are younger couples who don't have the time and the energy to cook, but still want to have good food on their plate. People usually are surprised after their first order, because they didn't expect the meal to be so fresh."
Is there going to be enough of this fresh food? Frank: "We are going to have to produce less meat. We are educated to eat meat every day, while this is not necessary. It is not beneficial for our health: we are just used to doing it. We are going to have to change that. By using technology, we can create more awareness amongst cooks about food waste." Marleen is taking this into account as well. She doesn't cook with a lot of meat. Also, the meals are delivered with electric bicycles throughout Amsterdam. What stands out are the porcelain bowls in which the food is delivered. When you order regularly, the delivery guy or girl will pick up the bowl you used last time. When you are not planning on ordering anytime soon, you can ask them to pick up your empty bowl.
What does our trend watcher think that is going to happen in the future? Frank: "Enough! In upcoming years, health will become more and more important in food and tech. What is the right thing to eat for you, will be defined through a personalised experience: there will be apps that analyse vitamin levels through your saliva and as a result, advises you what products you should buy to supplement them." There already are shakes available with the exact dose of all the minerals and vitamins you need. Frank isn't enthusiastic: "I think 50% of the people will consider this a benefit, and the other half will be very conscious about what they eat. Personally I think it's rubbish."
Marleen will continue to serve the latter 50% with the human touch as the focal point. Rumor has it that the person who brings the food shakes your hand at the door. She laughs: "Yes, we have very nice delivery boys and girls." Frank adds to that: "Soon enough, we will be taking photos in restaurants again. This is already happening in France, where there are certain restaurants who don't allow them anymore. They say: you ruin the surprise for future customers with your picture on Instagram."
Will we be seeing this in Amsterdam soon too? Maybe. Amsterdam is known to pick up innovative concepts and platforms quickly. This also holds for innovations in food. The gourmet burger restaurants have been there for decades; in other cities they are just opening up.  Frank: "If you want to have a startup in food, look at what is happening in food capitals like London and Barcelona, and bring it to Amsterdam." Deliveroo is the living proof of that. Philip adds, "We're growing 25% week on week, that's pretty massive."
See the original article here.
Are you interested in finding out more about the next Amsterdam Talks Tech? Visit our events page to stay in-the-loop of what's to come in the new year.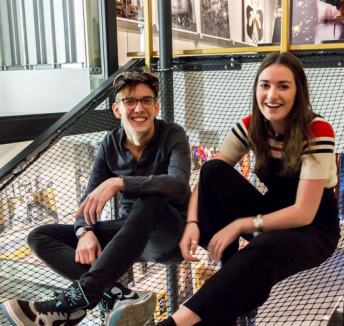 Read now

The Anti-Gallery Disrupting Amsterdam's Art Scene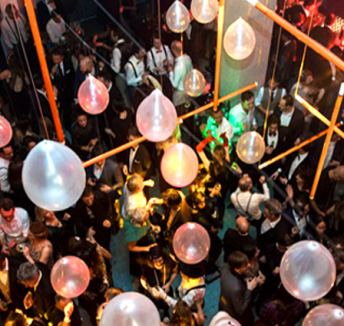 Read now

The Great Gatsby Christmas Eve 2015