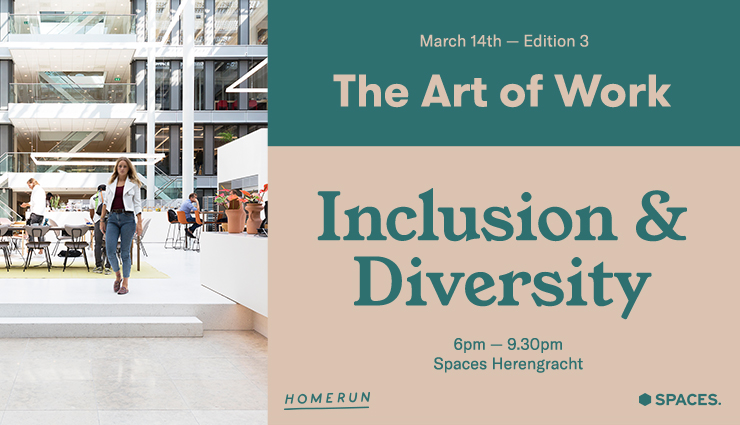 Spaces and Homerun are joining forces by organizing The Art of Work, an event series where all aspects of work are brought together. Expect best practices, expert talks and tons of other inspiration on how to attract the right talent, employee happiness, company culture and other latest trends in the world of work.
Spaces x Homerun present The Art of Work, Edition 3: Diversity & Inclusion
Becoming diverse and inclusive as a business isn't just something that's right and necessary to do, it's proven to add value to any type of company. Not only do diverse teams outperform their non-diverse counterparts, but they also show higher satisfaction rates and promote true innovation on the work floor.
In this 3rd edition of The Art of Work, we face the challenge of becoming more diverse as a team and how to become more inclusive in the first place.  That's why we've invited experts and activists from the creative industry to discuss the importance of diversity and the value of providing an inclusive working environment for employees.
Expect best practices shared with you by founders and experts. For this edition we've invited:
– Stephan Alspeer // Board Member IncludeNow & Owner of The State of Culture
– Meghana Reddy // VP People at Framer
– Iris Cuppen // Writer and Researcher at Bakken & Bæck
– Geraldine Moodley // Adviser | Trainer Diversity & Inclusive Leadership and Founder of Catalyst Consulting
Tickets will include dinner bites, snacks and drinks. 
Why Spaces and Homerun join forces:
Homerun aims at making people happier through work by enabling companies to attract the best talents by using their hiring software and Spaces is a pioneer in the modern ways of working with 10 years of experience in facilitating the success of others. Together we want to help companies and professionals bring out the best in them.