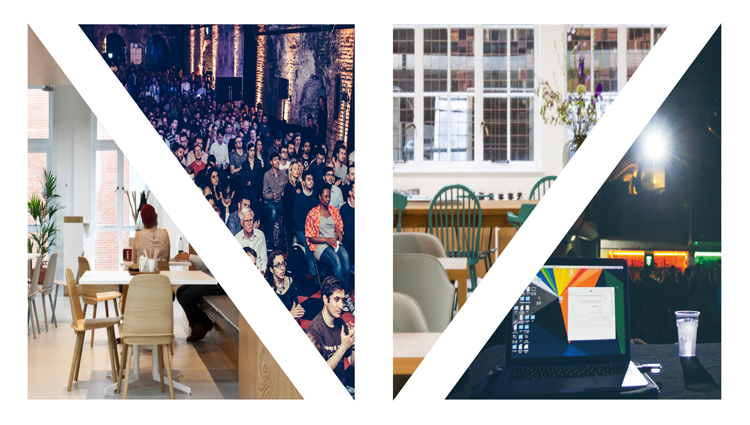 Introducing the launch of Re:Create – the new start-up, creative and entrepreneurial series.
Re:Create is a series of talks brought to you by Glug and Spaces.  Designed to bring you, as Members and invited guests, an exclusive insight into the forefront of creativity and entrepreneurial thinking. We're inviting innovators from non-business backgrounds as well as start-ups, founders and all round creatives, to inspire and educate you all at the same time.
The launch of the series kicks off in London on the 3rd of December, at Spaces Oxford Street. We've invited 4 key speakers from the very epicentre of London's marketing, digital and start-up scene and we're excited to reveal the line-up to you. So, without further a do:
Speakers:
Adam Boita – Head of Marketing – Pernod Ricard
Adam was one of the driving forces behind the amazing 'Silverpoint' campaign Pernod Ricard did with Punch Drunk and Somethin Else for Absolut. In his talk Adam covers the processes behind such campaigns and points out how cross-collaboration drives innovation and how important it is to blend real-world and digital experiences into one to  be able to create the ultimate interactive story.
Daniel Fellows – Senior Manager Digital and Social Interactions – Vodafone Group
From working at Nokia, Microsoft and now Vodafone Daniel have some great experiences of how valuable Social can be for your business. If you're still trying to get buy in from your business leaders and the C-Suite Daniel will provide you with the top 10 reasons why Social should be at the forefront of your business now and definitely in 2016!
Dan Kirby – Co-Founder & CEO – The Marketing Technology Association & Tech Dept.
As Dan has only ever worked in start-ups in his career he will share some of his lessons, insights and ideas. Not only has he got an impressive list of companies under his belt  – nowadays he's heading up the Marketing Technology Association as well as Tech Dept. His talk covers digital disruption and how small companies, through to large organizations can and should use this.
Steve Barlett – CEO – Social Chain
From dropping out of university to making Social Chain Europe's most influential marketing agency Steve will talk about how they're able to offer what no other agency can offer: the ability to make 200 million people see a certain message at once.
Not only will they all put on their inspiring and interesting talks we will also give you the opportunity to ask your questions in the Q&A session at the end. Definitely a good chance to get some good advice from key people at the forefront of their industries!