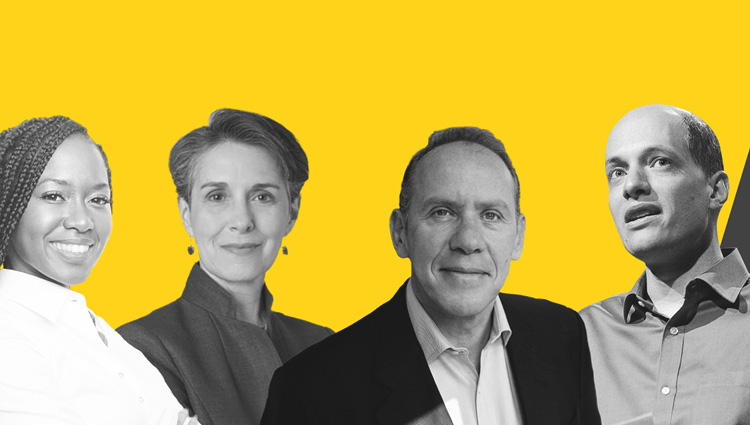 With: Alain de Botton, Alexa Clay, Teresa Amabile, Tony Crabbe, Ricardo Semler (videolink), Albert Martens and many others.
Ricardo Semler and Alain de Botton in conversation
Ricardo Semler became a rare business pioneer when he transformed his company Semco by giving his employees far-reaching autonomy. Contrary to what we might expect, this did not result in chaos and anarchy, but in a highly successful and profitable company.
Ricardo is convinced that organizations that focus on short-term results and are driven by ego will not make it in the future. Organizations should be based on long-term thinking and people-centric focus. In other words, organizations should become wiser.
It is a dream come true that Ricardo will participate in our symposium to share his insights. In addition, Ricardo will join philosopher Alain de Botton in a rare conversation about how we can create wise organizations.
What does the future of work look like?
Will we continue to operate in top-down, control-based systems? Or are we slowly but surely transitioning to cultures based on self-management, trust, responsibility and transparency? And if so, which skills and mindsets will we need to be successful in this new paradigm?
Rethinking the way we work
All over the world, companies like Semco are rethinking the way they work. Simultaneously, psychologists and researchers are showing us that workplaces that foster autonomy, safety and responsibility are thriving. It's time we start paying attention to what they're saying.
Thriving in the 21st century
While artificial intelligence is changing fundamental processes, a full-fledged war on talent is raging and the threat of disruption is looming, the question how organizations and professionals will thrive in the 21st century is becoming more more and more urgent.
Learn from thinkers and leaders
At this innovative event, The School of Life is bringing together thinkers and leaders who are changing the meaning of work. Entrepreneurs who are successful with self-managing teams, philosophers who are rethinking organizations and psychologists who are teaching how we can work more emotionally intelligent. Together, they will share with us their successes, set-backs and insights on the way to developing people and organizations of the 21st century.
At this event, you will learn how to:
Use self-awareness as a tool to create more purposeful organisations.
Create a culture that drives workers to perform at their best.
Harness fundamentally human capabilities.
Transform organisations from the inside.
Create an egalitarian business model with happy employees and customers.
Encourage true and deep collaboration.
Create change trough energy, focus, hard & soft skills.
More information about this symposium.
Some of the speakers
Alain de Botton
Alain de Botton, is devoted to developing self-awareness and emotional intelligence. To Alain, an organisation should focus on its clients' real needs, rather than their desires and should motivate its employees to continuously learn and mature.
Teresa Amabile
Teresa Amabile is a Professor of Business Administration at Harvard Business School. Teresa illuminates how great managers enable employees to have satisfying inner work lives: consistently positive emotions; strong motivation; and favourable perceptions of the organisation, their work and colleagues.
Alexa Clay
Alexa Clay is an expert on subculture and innovation. She knows how to re-program multinational companies, break through bureaucracies and transform institutions and cultures from the inside. Alexa will teach you how to hack, hustle and provoke systems in need of change, and show us what changes are yet to come.
Tony Crabbe
Tony Crabbe, author of international bestseller 'Busy' and business psychologist believes that as we approach the fourth industrial revolution, organizations will fail fast unless they start getting the best, and most human capabilities from their people. He will teach you how to harness their humanity.
More information about this symposium.
Special price for the community of Spaces
Spaces members and tenants get 25% discount and pay €371,25 incl. VAT.
Are you interested in attending this symposium? Send an email to our reception.