Discover Electric with Tesla Talks
Tesla was founded in 2003, but they never advertise. They don't need advertisement, because their production is there bottle neck. If you want to order a Tesla model, you have to jump on the waiting list.
Tesla focuses on a transition to sustainable transport, actively investing in solar energy and a more efficient way of storing energy. Their strategy is to build a more affordable super sports car, helping the company work towards its mission: to accelerate the world's transition to sustainable transport. Inline with this strategy, the next car will be one that is available for the mass market costing in the range of €30-35k. Being the most innovative in their field, Tesla believes that the next generation of their car has the potential to disrupt the market of combustion engines.
Last week Spaces Zuidas hosted a dynamic talk by Jelle Vastert, part of Tesla's Vehicle Charging team and leads the Supercharger Program in Europe. Jelle is also deeply involved with Tesla Energy, a new part of the business and a critical step in the mission to accelerate the move away from fossil fuels to a sustainable energy future.
Trained as an engineer, he started his career as a project finance banker and a strategy consultant before joining Better Place in 2011. After Better Place he was involved in the UK energy market, specifically the creation of flexibility on the demand side. His passion is in exponential technologies and helping to implement products with the potential to change the world. Jelle holds a MSc in Civil Engineering from Delft University of Technology and an MBA from IESE Business School in Barcelona. Introduced in his talk were ideas on sustainability and disruptiveness and redefining driving.
View the gallery below and stay up-to-date with our talks and seminars by visiting the events page.
Read now

City Circle Amsterdam Drinks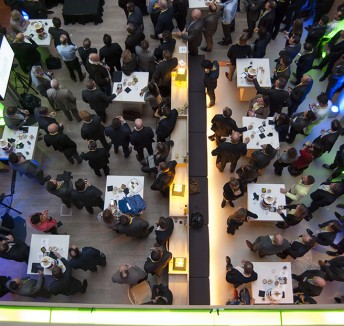 Read now

Food and Tech in The Netherlands