Meet Dennis, founder of ClearheadClub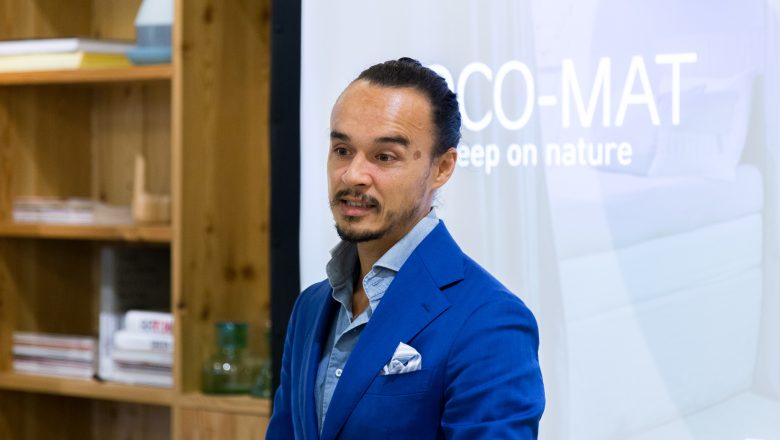 As a new cool service that Spaces offers to its tenants and meeting rooms users, is the yoga and meditation without having to leave your desk or meeting table.
ClearheadClub offers several services to help any team or workforce reach more clarity, happiness, efficiency and productivity. With a holistic but down-to-earth approach, ClearheadClub offers yoga, meditation and even breathing sessions. We speak to Dennis, founder of ClearheadClub.
Hi Dennis, can you tell us about your background and how it lead you to where you are?
I am an entrepreneur since 2001 and have had several companies in fashion and lifestyle. My physical background is in martial arts. I love the precision of Wing Chun Kung Fu and the depth of the training. Later I started training in Brazilian Jiu Jitsu and competed in national tournaments. All this brought me a sense of body awareness and I felt this was only the beginning. In order to be more flexible for competition I started practising yoga and it made me realise that yoga is not just about the physical side.
Through yoga I regained interest in meditation and when I moved to Shanghai, China for a 2-year project I sometimes felt lonely, anxious and stressed. It made me deepen my meditation practise. I learned how to keep a steady and structured meditation practise, regain my focus and get rid of stress and irritations. I felt how amazing the world can transform just because I transformed a little bit. So I started studying meditation and giving classes in several gyms and yoga schools. Nowadays I only need 10 to 20 minutes (OK, sometimes only 5) to maintain a mind of calmness, clarity and happiness.
What role do you think an employer should play in the health state of its employees?
I think that mental and physical health is a personal responsibility in the first place. I see that a lot of problems exist simply because people don't take ownership of their own lives. We all strive for the same thing; health and happiness. That is what we are wired for. The people that don't seem wired to live a healthy and happy life, are simply out-of-touch with their own core.
As an employer that would hurt me because unhealthy and unhappy people don't perform at the peak of their productivity, they don't make the best decisions and don't have access to their creativity.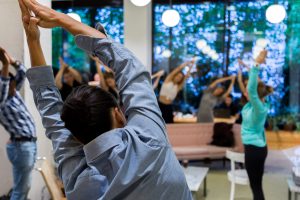 What are your thoughts on the future of health in the workplace? Which direction do you see it heading in?
We see the best employers take co-ownership of the physical and mental health of their employees. The best employers don't mind investing in their employees doing healthy things on company time. By the way: Once you start seeing what a happy and healthy employee does, the boundaries between company and personal time will disappear. Work time doesn't have to feel like work time. I see a great future where people actually want to be at work. Because people need a sense of contribution and significance.
Our Presence Training teaches people to act with attention and to be in the present moment. Science has proven that people who are more present, are far more happy and productive. Also if you learn how to truly be in the moment, you don't feel that desire to be somewhere else.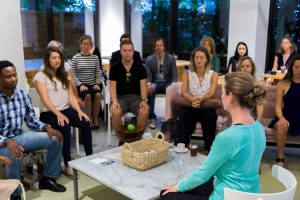 What advice would you give to people aiming to integrate a more healthy lifestyle in their working life?
We are launching a new 8-weeks program "Better-Faster-Clearer" soon that is tailored to becoming more focussed, productive and armoured against influences of stress. It is filled with tools, techniques and little life hacks from our teachers who -by the way- all have experience in the business world. All backed up by science and very applicable. I advice anyone with big hairy audacious goals or simply a busy life to subscribe for the introduction video.
Thanks Dennis for taking the time to help us learn more about the benefits of breathing, yoga and meditation. Interested in booking a session with ClearheadClub at Spaces, in your office or during your meeting? Contact our team from Meetings.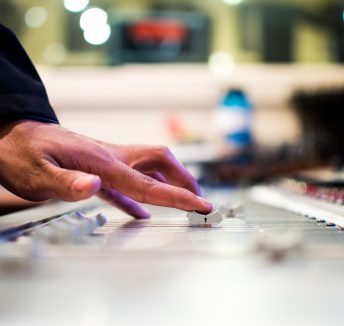 Read now

Can You Export Culture?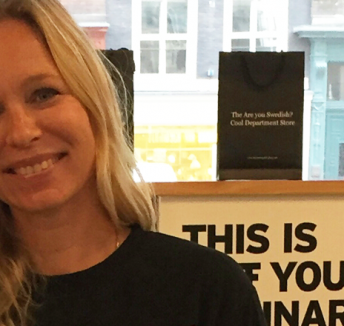 Read now

Meet Hanneke, founder of Are You Swedish?.