10 things we learned during Spaces x Homerun: The Art of Attracting Talent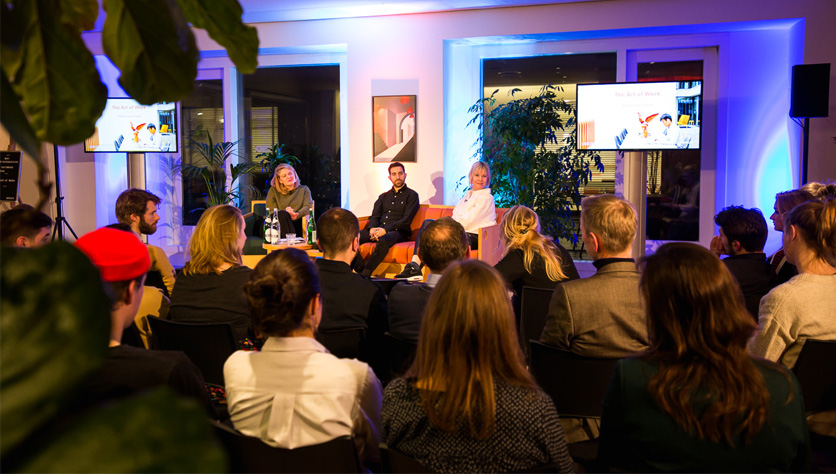 The times when talent was flooding your inbox are long gone — nowadays there's a real war on talent going on. So if talent doesn't come to you so easily anymore, what are new ways to attract people?
This was the theme of the second edition of The Art of Work Events, the latest installment in a series of collaborations between Homerun and Spaces. On January 31st four recruitment experts took the stage in Spaces Herengracht to share their learnings on attracting talent.
Experts on stage:
– James Lesner, Senior Tech Recruiter at Catawiki
– Alice van der Vliet, Global Head of Employer Branding & Recruitment Marketing at Signify (formerly Philips Lighting)
– Laurent Scholten, CEO at Wonderkind
– Walter Hueber, CEO at Cammio and Co-founder Dutch Recruitment Club
Here are their top 10 takeaways.
1. Do things your way
Small companies have to find ways to win the war on talent. 'As a start-up, we don't have to follow every step,' James revealed. 'So we have a fast interview process to stay ahead of the competition. This results in a fast time to hire — sometimes it can be just two weeks.'
2. Get to know your target personas
Alice explained that Signify has created target personas for talent they wish to attract to the company. 'It's important to get to know who you want to attract. After interviewing high-performing people within your company to find what's important for them in work, you can start building on those leanings in every phase of the hiring cycle.'
3. Quantify your feedback
James believes it's the best way to learn how to improve the interviewing process. 'We used to just ask candidates what they thought, but last month we started quantifying data, asking rejected candidates to fill out an online survey around what they thought of the interview process.'
4. Employees are the best brand ambassadors
'They can tell the brand story better and are more credible', Alice shared. 'We don't pay staff extra to share job openings or Instagram stories about their day, so what they post needs to come from the heart. We put a lot of work into engaging staff by offering opportunities to learn and develop within the company.'
5. Get your platform to work for you
James: 'We were looking for a very specific role; a tribal art expert, someone who authenticates auction items, but these can be hard to find. In order to implement a cost effective way to do this, we decided to make the most of our platform. We filtered the database to 'tribal art', and offered some of the most active users the chance to turn their hobby into a passion. Almost everyone replied, a good hire was made, and the recruitment model was rolled out to different categories.'
6. Analyse online behaviour to find the perfect job
Wonderkind uses AI to find candidates based on their online behaviour and hyper-target these people with the right job ads on social media, Google, and beyond. Laurent explained why this works: 'online is the most honest behaviour you show: what you search for, the pictures you like, says a lot about you. This is the data we use to target you for the jobs you'd really love to do.'
7. The analogue interview system is unfair and inefficient
Walter believes recruiters need to reject the old ways and embrace change: 'The current interview system is based on bias and assumption. If you include gut feeling in decision-making, the chances of making the right hire are much lower compared to a decision based on objective data.'
8. Embrace marketing lessons and data
'Recruiting is marketing,' Walter affirmed . 'It's the art of engaging and connecting people. We see in e-commerce that emails have a 200–300% higher conversion rate when video is included, so in the future I expect every job to have a video marketed on social media and recruiters to engage candidates through visual content, which will be seen everywhere, not just a career site or job pages.'
9. Recruitment will be become (almost) automated
The evening ended with a discussion around which parts of the recruitment process might become automated. Laurent felt that the answer is almost everything. 'A lot of things will be automated — my goal would be that in the end we just provide three candidates. As all three will fit the job, your role as a recruiter would be to choose one and sell the job to them. After all, that's what we're all interested in: hiring the right man or woman for the job.'
10. Recruiters will become coaches
Walter agreed that the role of recruiters will change: 'There will always be a space for human creativity at the end of the process. But it will be as counsellor offering career advice, by asking if this is the right opportunity at the right time rather than simply hiring somebody.'
The Wrap-Up
No matter what the long-term future of recruitment may be, all the speakers agreed on three things: the value of structured interviews; the need to embrace technology; and the importance of the human aspect in the hiring process. As James pointed out: 'Unless you provide a good experience for the candidate, they're not going to choose you anyway.'
This is a guest-publication and is also featured on The Art of Work – by Homerun.
Read the full recap of the first edition of The Art of Work – Employer Branding.
You can also sign up for the next instalment  of Spaces x Homerun The Art of Work, Ed.3 – Inclusivity and Diversity. 
Read now

What's happening at Spaces - Events to watch in week 7
Read now

3 tips to help startups and small businesses grow website traffic